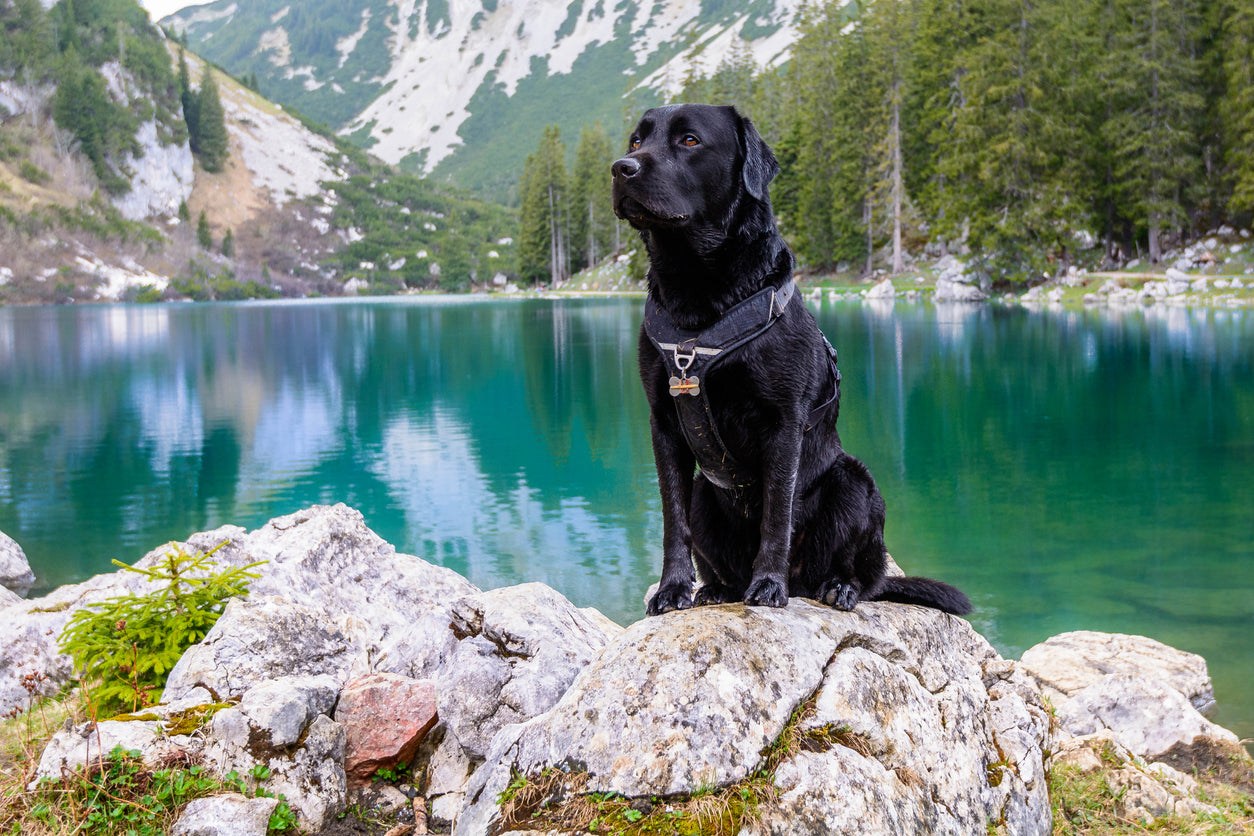 Is your high-energy dog driving you to distraction? Maybe it's time to teach her to run off some of that over-abundant energy. This is especially important for dogs with hunting or working breeds in their background. A dog that has been bred for long days in the field or at work has too much energy to stay cooped up at home all day.
Instead of turning into a sedate couch potato, he's more apt to disassemble that couch in search of an elusive bone or biscuit. Dogs that regularly take their humans on exciting runs learn to appreciate that couch as a cozy place for napping, instead! 
Fortunately, there are some great apps to help you and your best friend get off that couch and started on the path to a more relaxed vibe at home. They're good for your health (and your dog's), too. We'll look at a few favorite apps, but first...
Keep Safety in Mind
Some dogs just aren't built for running long distances. In particular, brachycephalic dogs like Bulldogs, Frenchies, Pugs, and Shih Tzus aren't up to running much at all. Those adorable smooched faces are fantastic for kisses but not so great for breathing. They just can't move oxygen efficiently enough to safely run very far.
Other dogs that should avoid long-distance runs are those with pre-existing medical conditions (unless your vet OKs it) and puppies. The AKC recommends holding off on runs until your pup is at least 18 months old. A puppy's bones have to grow to full size and strength before they can withstand the rigors of a long run.
In the meantime, walks are a great opportunity to teach your pup basic training, good leash manners, and to build up her stamina for those long-distance runs to come. Working with her now will ensure you have a great running partner in the future! 
The Best Apps for Running with Your Dog
These apps will help you with everything from training and rewarding your pup to keeping track of time and distance traveled.
Walk & Jog With Your Dog from CardioCast
If you and your dog are just getting in shape for those long runs to come, check out this Cardiocast app. According to Rachel Crocetti in Daily Paws, fitness coach Jonathan Carlucci, along with his Labrador retriever mix, Benji, will lead you on a guided workout to get you walking and jogging with your four-legged training partner.
The audio fitness class will guide you through intervals of casual walking, brisk walking, power walking, and jogging as you improve your fitness and stamina. The jogging intervals are only 90 seconds and the workout includes human-only intervals of lunges and squats, so your pup will have plenty of time to rest and take in the best sights, er, smells. 
These apps seem like a great way to prepare for those long-distance runs in your not-so-distant future!
Tractive
If you watched the Amazon reality competition series, The Pack, you may already be familiar with the Tractive app. This real-time GPS tracker kept the incredible dog contestants and their human partners safe during a fantastic series of adventures across multiple continents.
This shock-resistant device is small, lightweight, and 100% waterproof. The unlimited range will let you track your pet if he decides to go on an adventurous run without you or wanders off the trail in search of a little extra excitement. Of course, using the right runner's leash can help prevent the latter!
The batteries in this little device will last from 5 to 7 days. That should give you plenty of time to track down your adrenaline-junkie pup and bring him safely home!

Rundogo
The Rundogo app lets you choose your activity, from simply strolling around the block with your pooch to a sled dog race. Other activities you can choose from include canicross (cross-country running with dogs — sound familiar?), bikejoring, dog biathlons, dog scootering, and skijoring. The app will even keep track of a solo run when you leave your sleeping dog at home. But why would you?
The app lets you keep track of multiple dogs and their individual performance records. It also lets you connect with a community of like-minded dog lovers and share stories, photos, and inspiration.
iTrainer Dog Whistle & Clicker
This app lets you forego a dog whistle and clicker when heading out for a run. The iTrainer Dog Whistle & Clicker app lets you add these doggie essentials to your phone — another essential you'd be taking with you anyway! 
The app includes a dog whistle that is customizable within a frequency range of 100hz to 35kHz to best suit your dog's sensitive hearing. It also includes a training clicker to help you catch your dog doing good and reward her appropriately.  Choose from 5 different sounds to find one that really 'clicks' with your pet.
If your dog goes ga-ga over squeaky toys, she should really like this app. It features several unique squeaks, along with 50+ sound effects like birds, cats, other dogs, and more. Sound effects are a great way to keep your pet motivated during a long run in an otherwise boring place. The app even lets you record your dog's favorite sounds to playback later.
It's also a good way to introduce puppies and shy dogs to strange sounds they might encounter in the real world. Somehow, those sounds won't seem as scary when they're accompanied by a treat and praise for standing her ground. It's dog-approved in another way, too. After all, it lets you stuff your pockets with more yummy treats when you leave the real dog whistle and clicker behind!
Remember...
Always warm-up and cool down with a walk, carry plenty of water (and a way to share it), and bear in mind that your running partner is wearing a fur coat. Avoid running in very hot or humid weather when your pet can't pant hard enough to dissipate all the excess heat from running. Oh, and don't forget the treats! 
For more tips and advice about running with your dog, send us a woof. We're always interested in our fellow runners and their amazing dogs!