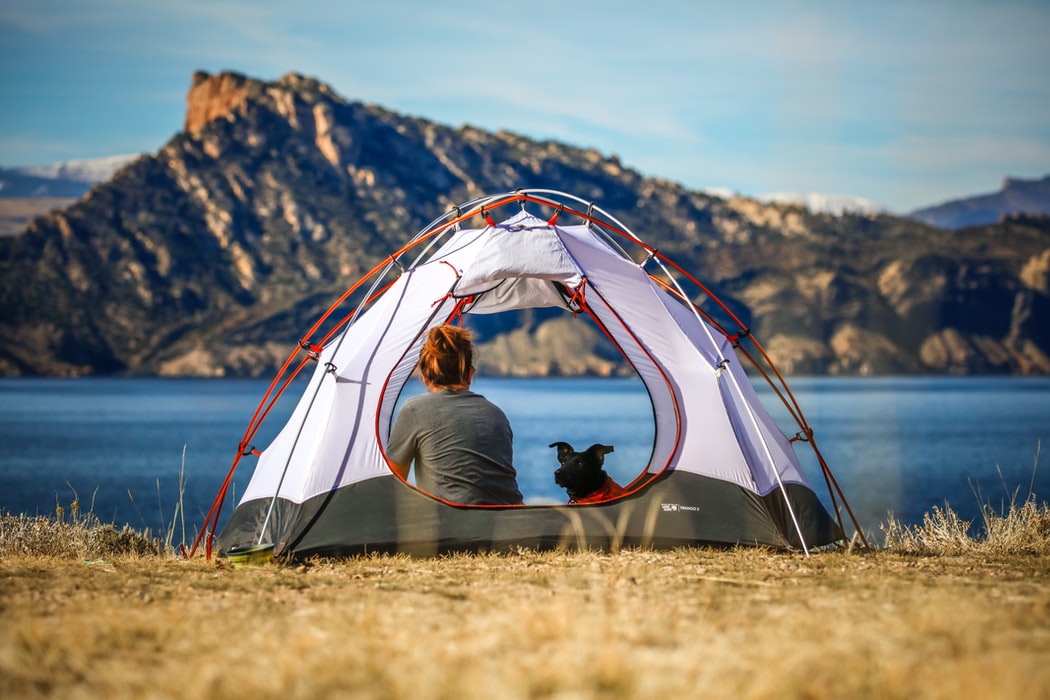 Your dog is part of your family, so it makes sense that you would bring him on your camping trip. Spending time in the outdoors with your four-legged friend presents the perfect opportunity to strengthen your bond and enjoy new experiences together. Your dog will explore new sights and smells, other dogs, and new people. Camping with dogs can be a lot of fun, but it is important to be prepared.
Schedule a Vet Appointment
Once you decide where you will be camping, schedule a check-up appointment for your furry friend. Depending on the region where you will camp, your vet may recommend additional preventative medications or vaccinations. Before you camp, make sure your pet is:
Fully vaccinated. Not only should dogs who are exposed to natural surroundings be up to date on vaccines, but most campgrounds require it before entry.
Treated for fleas and ticks. We love the tranquility of remote locations, but so do fleas and ticks. It's necessary that your dog be on a regular form of flea and tick prevention plan prior to embarking upon the great outdoors.
Microchipped. Although campgrounds do not require pets to be microchipped, it is recommended. Dogs can be easily spooked in strange environments and are prone to running off. Since they are unfamiliar with their environment, they may not be able to find their way back to your campsite. 
Healthy. We don't like to camp when we are sick, and neither will your dog. It is best to check with the vet to make sure your pup is healthy and fit before heading out on new adventures.
 Review Campground Guidelines
The first thing to check when reserving a campsite is that the campground is pet friendly. There are hundreds of pet-friendly campgrounds across North America, and their regulations vary. Make sure you understand the following:
Barking ordinances. Pet-friendly campgrounds understand that dogs bark. It is unavoidable. However, most campground rules stipulate that if your dog barks excessively during the campground's quiet hours, you may be asked to leave. 
Breed Restrictions. Many pet-friendly campgrounds have breed restrictions. If you own a dog that is considered an aggressive breed (Pit Bull, Doberman, Rottweiler, etc.), you may not be permitted to stay in all pet-friendly campgrounds. 
Leash Requirements. For the safety of both guests and their pets, campgrounds enforce leash requirements. Two of the most common rules are that leashes must be six feet or shorter, and they may not be retractable. We recommend the SideKick Hands-Free Dog Leash for morning jogs, strolls around the campground, or hikes through the wilderness. 
Many campgrounds have dog parks, small pens adjacent to campsites, and even dog washes. 
Pack the Essentials
While you are busy packing everything on your camping list, don't forget to pack your dog's essentials. Being comfortable and prepared will ensure that you enjoy a relaxing and memorable camping trip with your pup. Here is a list of essentials to get you started:
Food and water bowl
Dog food
Plenty of dog treats
Dog first-aid kit
Vet records
Dog waste bags
Toys that are safe for outdoors
If you are hiking or walking to remote locations, don't forget to bring a dog rain jacket and a portable food and water bowl with plenty of food and water.
Go For a Trial Run
If camping is new for your dog, it is smart to test the waters a bit before you travel too far from home. Here are some ways that you can prepare your dog for a more extended camping trip:
Take long walks. Since your dog will have limited off-leash time while camping, start taking longer walks. Perfect your dog's leash training so that you will be campground ready.
Acclimate your dog to the outdoors. If your dog is accustomed to being indoors most of the day, begin spending more time outdoors. Sit on the front porch or play in the backyard. 
Have a stay-campout. Whether you are camping in a tent or camping in an RV, it will be a new environment for your dog. Pitch a tent in the backyard or spend one night in the camper to test out how your dog will react. Addressing your dog's behavior in this controlled situation will ready you for the real deal.
Easing into the camping experience will relieve your dog's anxiety and set realistic expectations for you. 
Camping with your furry friend is an excellent opportunity to explore the world and maybe even teach your dog some new tricks. Follow these tips for camping with your dog and experience limitless opportunities for a new adventure.