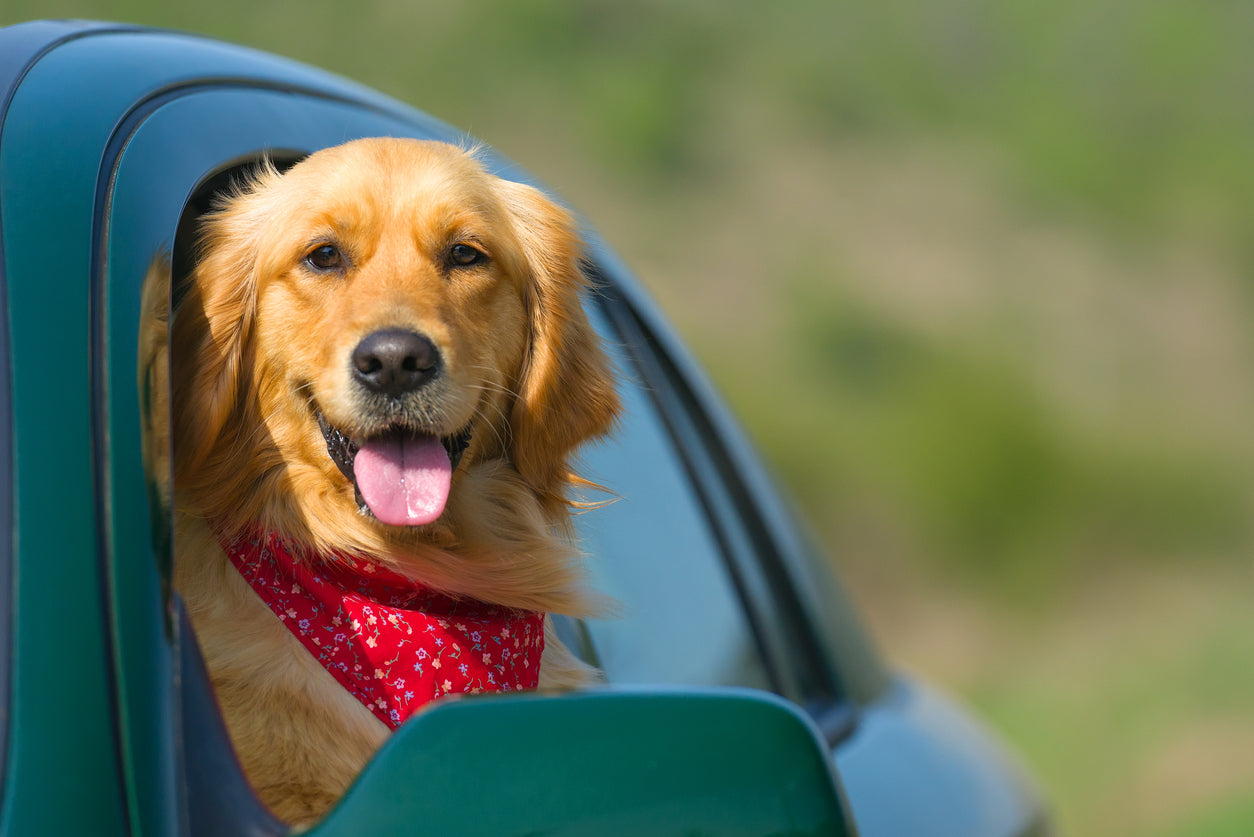 Do you drive with your dog whenever you can? Many people do, whether it's a quick trip to the store, going on vacation, or heading out to one of your bucket list running or hiking destinations. It makes sense to take our pups with us since so many of us consider our pets just another member of the family. Since dogs frequently have to go road-tripping to reach a favorite hiking destination, you might want to add these doggie-centric travel car accessories. Having the right accessories can make taking your dog along for the ride much easier and more enjoyable for you both. 
Protecting Your Car...
Pet nails and car upholstery are a bad combination. If your dog is scrambling to keep his balance when you're wheeling around corners, the upholstery will pay the price. Fortunately, you can protect your vehicle's interior through the use of a car seat cover. According to HGTV, seat covers are just one of the accessories that can make traveling with your pet safer and more enjoyable.
These covers fit around the front and back seat headrests and cover everything in between. No more muddy pawprints or torn leather seats and the only furball will be your pooch when you use one of these covers. As an important bonus, the hammock-like design will keep your dog from falling off the seat and potentially breaking a leg.
...and Your Dog
When choosing a hammock for your buddy, look for one that will allow her to buckle up. And, yes, just like their humans, pets are safer when buckled in place during car rides. As a matter of fact, you're safer too when your 70-pound pooch stays put during an accident instead of becoming a flying projectile aimed at you!
There are dog safety belts designed to give your pet some freedom of movement while still protecting you both if the worst happens during your trip. Just make sure that you fasten it to your dog's harness, never to her collar. Otherwise, she could end up with a broken neck during even a mild fender bender!
Ramping It Up
Of course, your best friend will need a way to safely get into the car before he can enjoy his new hammock. That can be a problem, especially for elderly pets, short-legged breeds, or if you're traveling with your pet in an RV. A non-slip ramp makes it safer and easier for your dog to enter and exit your vehicle. Choose one that folds for easy stowing between your pet's innumerable pit stops.
Training your dog to use his new ramp is best done at home. Dog trainer Robert Cabral suggests training your dog to use a ramp in incremental steps. That way he'll feel calm and confident when using it, even when he's excited to get going or tired out from a long day of hiking.

Speaking of Pit Stops...
She may not pester you for candy and a sugary drink every time you stop for gas, but your pet will still need to quench her thirst. A snack won't go amiss either, and long trips will require regular mealtimes. Even short trips around town can make a pup thirsty. That's why you should always carry drinking water and a means of offering it to your pet.
A collapsible water cup is a handy thing to carry and makes it easy for you to quench your pup's thirst almost anywhere there's potable water available. A water bottle with a built-in cup is even better since it has its own water supply. One that comes with storage for those all-important waste bags? Yes, please!
Make sure you have a great quality leash for both the hike and all those pit stops along the way. One that lets you keep your excited pup under control while leaving your hands free to juggle drinks and snacks is ideal! That way she can do all of the sniffings and exploring she wants while you enjoy a quiet stroll before resuming your journey.
Giving your pet her own travel bag will make caring for her on a long trip much easier. Choose one with room for food, treats, the leash, essential grooming supplies (don't forget the nail trimmers!), and a few of your pet's favorite toys. Collapsible food and water bowls and a leak-proof placemat will make mealtimes a breeze.
Avoid Having Your Car Smell Like a Kennel
As much as we love our dogs, they don't always smell the freshest — especially after a long hike! Even vacuuming your vehicle between trips may not help when your vacuum starts smelling like your dog! A dog that spends a lot of time in a vehicle will very quickly have it smelling like a kennel unless you take preventative measures.
Unfortunately, the vets at petMD don't recommend the use of traditional air fresheners around pets due to the volatile organic compounds (VOCs) they contain. It's those VOCs that are responsible for the pleasant scent that's supposed to cover up bad smells.
A couple of air-purifying bags full of eco-friendly charcoal will absorb both humidity and unpleasant smells from your car's tight quarters. Not only are they very effective at absorbing odors rather than masking them, but they're also non-toxic and contain no harmful VOCs.
Does Your Car Insurance Include Pet Injury Coverage?
Check your car insurance policy, because some include pet injury coverage as part of the collision coverage. With others, it's frequently a worthwhile add-on. If the worst does happen, it will be a huge relief to know that your pet's medical expenses are covered. Policies vary, so it's always a good idea to check yours before heading out for that ultimate hike with your best friend in tow.
If you're traveling with a dog, allow plenty of time for breaks. Just like at home, your pooch will need opportunities to exercise, play, and relieve himself. With the right gear and plenty of stops to see (or smell!) the sights, traveling with your pup is a wonderful experience you'll both enjoy!
Want more tips and tricks for hiking with your dog? Check out our Dog Blog or send us a woof with your 'pawsome' tips, suggestions, or questions!

🐾