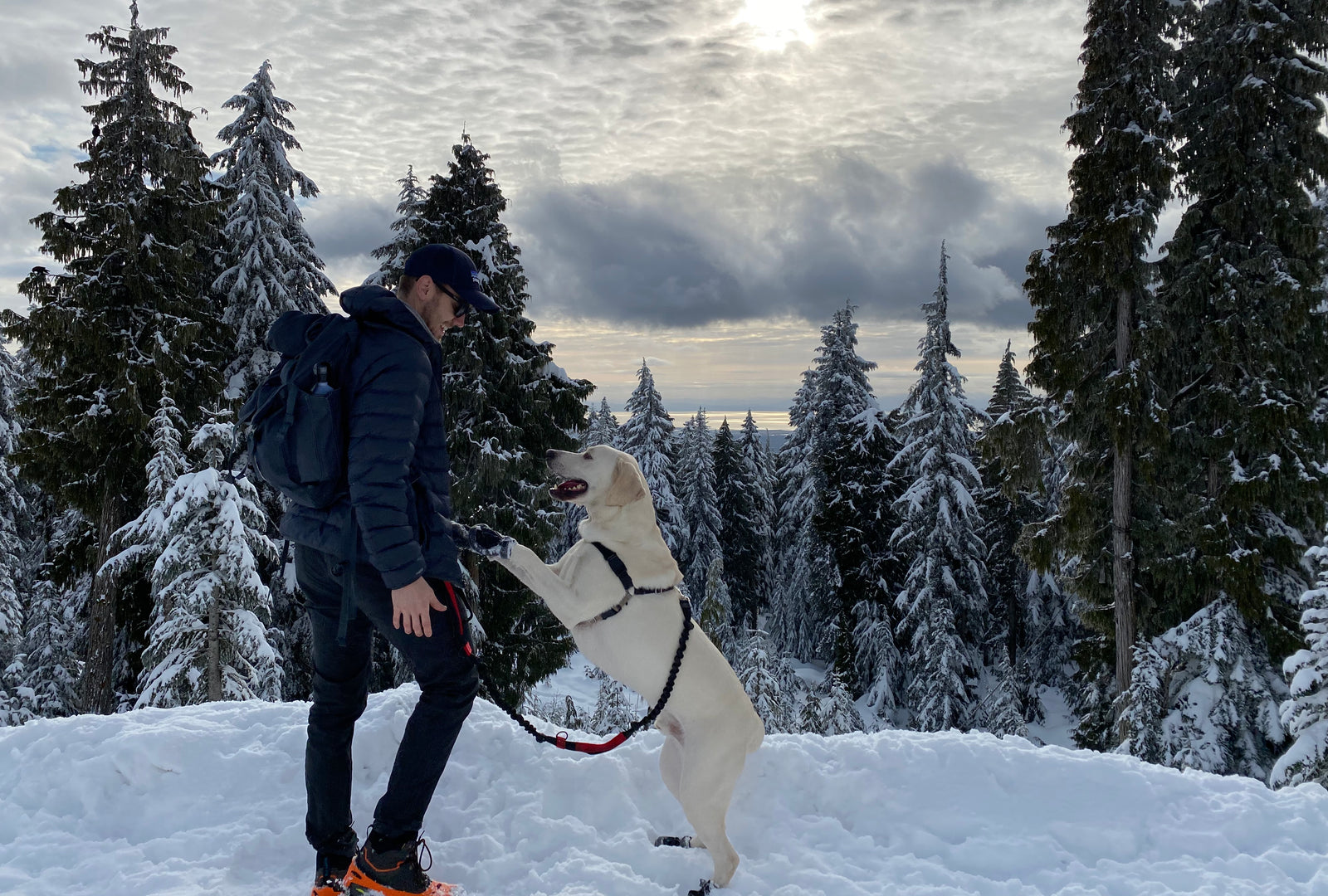 Trekking in the Himalayas along the Annapurna range of Nepal, a solid white animal came running up the trail towards me. Wagging her tail and perking her ears up, the Labrador retriever looked up to her owner then back to my group before deciding we could be trusted. Midway through a long day of hiking, it was time for a break. Being able to give some attention to a friendly panting face made it even better.
The owner, we learned, was from New Zealand. She had flown to Nepal with her dog with plans of staying in the country at least through the year. We asked the questions that she must have been asked hundreds of times before: "Is it difficult traveling with a dog? Is it hard hiking with a dog?"
"Of course it is," she said, "but that doesn't mean it isn't possible. A lot of people told me I was crazy for bringing a dog along on my adventures, but in my opinion, it has made my experiences even richer."
Little did I know that at that very same time, a Labrador puppy that would change my life was waiting for me back at home in the United States.
Before Finn first came into my world, I knew I wanted a companion that could keep up with my nomadic and adventurous lifestyle. What I didn't realize was that he would become one of my life's greatest adventures. Following my trip to Nepal, and concluding my two years of living abroad, I moved back to the states. I found myself itching to see more, to be outside more, and to explore more. Then I found myself with a new puppy.
Plenty of people told me having a dog is tough work. Even more told me not to get one, that a dog wouldn't "fit in with my lifestyle," which involves frequent traveling, moving, and being outside. The words from the woman in Nepal echoed through me: of course, it's work, but that doesn't mean it isn't possible.
Having a dog is an enormous commitment and requires a lot of dedicated time and effort, but they do – as the woman said – make this life experience even richer.
Instead of closing it off, Finn expanded the world for me. I often find myself researching hikes and places to explore along my journey across the states so that I can take him hiking and exploring. I make it a point to give him at least a day a week (when I'm not working) to hit the longer trails and runs. Seeing him outside lights something up within me. I don't think I have met another living being that is more present and has more of an unquenchable thirst for life than this dog. He serves as a constant reminder for me to take life as it comes, which, for anyone that has ever had a dog, should sound pretty familiar.
Transparency time. The same zest for life that makes Finn so much fun also makes him a difficult dog to walk, let alone run or hike with. He can not go fast enough. How fast exactly? Some of my current personal records for the mile have been with him strapped to me.
Doing what I saw all casual morning joggers do with their dogs, I strapped a collar around his neck and a leash around my hand. I tried the same thing with hiking. Neither were great ideas. Neither provided the same benefit as the gear that I consider to be the best outdoor gear for dogs.
When I came across Iron Doggy™, their products changed that. I went from being dragged the first mile along a run or a hike, leaving both me and Finn breathless, to being able to control the pace and path. The unique thing about Iron Doggy's gear is that it allows you to have your dog secured safely at your side with their hip belt while having free use of your arms.
As an avid hiker, runner, physical therapist, and Certified Strength and Conditioning Specialist, that means everything. It means I can run with Finn while making sure my form doesn't come undone. It means that I can hike any trail, knowing that Finn will be at my side and I can concentrate on the terrain rather than having to worry about him running too far ahead or having to hang on to a leash. But, more than anything, it means that I know Finn will be safe while we do what we both love to do, move.
The thing that I love about Iron Doggy's outdoor gear for dogs is the apparent detail and thought they put into each product. I went with their Runner's Choice Hands-Free Leash because it allows me to choose how close or far I want Finn by my side. The leash has incremental D-rings that enable him to be further away when I want him to lead, or right by my side if someone is coming up the trail or I'm running in a busy place.
It's also built with a dual bungee system so that he knows he's pulling long before I actually feel it, and most of the force from his pull gets absorbed. Another detail that's important when it comes to Finn, he tends to walk a deviated path, meaning he's all over the place, and the clamp around the belt slides easily with his movement, which is game-changing.
In terms of outdoor gear for dogs, I feel like I've come to learn more about it than I have gear for humans. I've tried and tested dozens of different harnesses, leads, leashes, ointment and booties, all to make sure that Finn is taken care of in some of the crazy elements that we find ourselves in. What I can say is that the piece of gear that has brought me the most peace in terms of making sure he's right with me despite the conditions we encounter is the Runner's Choice.
Out of all the leashes I've run and hiked with, it's proven itself in terms of quality and strength. Being confident in the gear you have is a beautiful thing because when it comes to being outdoors, the less you have to worry about, the better.
Don't get me wrong; I also love having Finn off-leash. I love not having to carry or hold anything, but I also know him, meaning that I know he can sometimes get a little too eager on trails, and when it's one that I'm not familiar with, that can be dangerous. Even if your dog is one that heels at your side perfectly, which Finn can also be, you can't always predict the terrain that you will encounter or the wildlife or people that might be up ahead on the trail.
The gear from Iron Doggy™ fixes the problem, and it's minimalist in the sense that you just strap it around your waist and don't have to worry about it, and it ensures that Finn and I will both be safe.
Finley McRae Highlander, Finn, for short, will be four years old this year. I often get the same questions that I asked the woman on the trail in Nepal right before I got him. How is it hiking with your dog? Is it hard to travel with Finn? How do you manage your lifestyle with a dog? The truth – it's challenging, but that doesn't mean it isn't possible and the reward for that is an even richer adventure. As it goes with all great adventures, the secret to having a good one is preparing for it. While I won't lie and say that I've planned every element, location, or step that I've encountered, I've always prepared myself, my companion, and the gear that I've brought along the way, and that has made all the difference.
Guest post and images by Logan Blanton