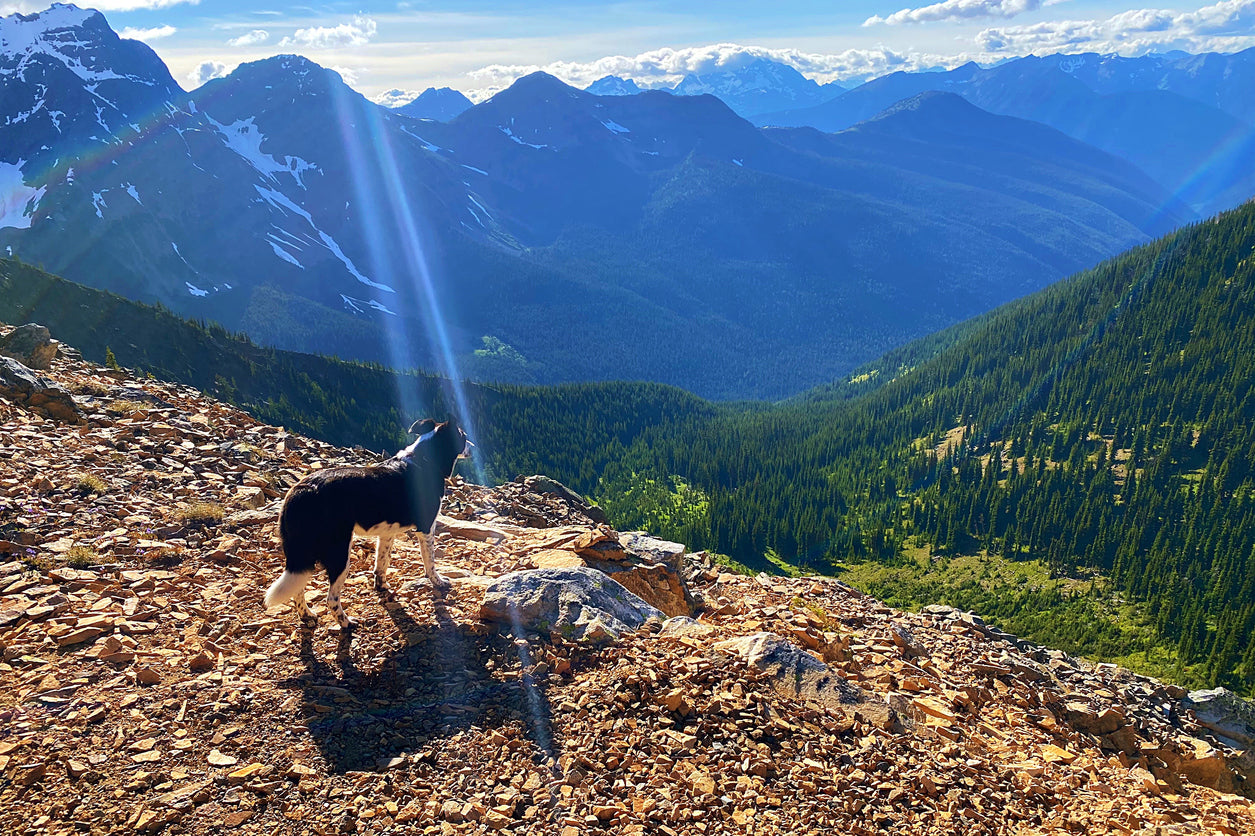 Do you and your best bud live in the beautiful Pacific Northwest? Or maybe you're vacationing there and looking for some dog-friendly activities. If he could talk, your best friend would tell you that one of his favorite activities is hiking — and this area of the country has some fantastic hiking trails for the two of you!
Cape Lookout Hiking Trail
This picturesque trail is one of the best on Oregon's Northern Coast The Cape Lookout Trail offers breathtaking views looking 400' down into the deep green and imposing old-growth forest and equally stunning views looking across at the Pacific coastline. The trail ends at the tip of the 1.5-mile headland where you'll find the turn-around point. This natural jetty offers spectacular views both up and down the coast.
While on the trail, keep an eye out for the peregrine falcons that nest in the area. If your hiking buddy is small, you might want to keep an extra close watch on him while on this trail. Peregrine falcons are exceptional predators, after all! March visitors may even spy gray whales with their calves, heading north from Mexico to Alaska on their annual migration.
This popular and heavily used trail is frequently muddy and can be dangerously slippery. Make sure that you and your pup are wearing the proper footwear and take your time traversing it.
This out-and-back trail is 4.8 miles long.
Tamanawas Falls Hike
Tamanawas Falls in Oregon is an awe-inspiring 150-foot broad cascading waterfall that spills over a massive stone grotto. The trail that leads to it heads first toward the mighty East Fork of the Hood River, which you and your dog will cross on a huge log bridge. After crossing, you'll climb until you reach Cold Spring Creek Canyon. From there, you'll follow the scenic creekside trail that leads to the spectacular water show.
The Falls are at their magnificent, thundering best in the spring and early summer when the snowpack melts. However, summer wildflowers and autumnal colors make the hike worthwhile even later in the summer or fall, when the waterfall is merely a shadow of its boisterous spring self. If you and your best bud are up to a chilly challenge, the Falls freeze and turn into a massive ice amphitheater in winter.
This is a popular hike for families, so expect to encounter children on the trail.
This easy 3.4-mile out-and-back trail gains just 560 feet in elevation.
Diablo Lake Trail
This trail in Washington's North Cascades National Park is one of the hidden gems of the National Park system. Its sibling parks, Olympic and Rainer, are better known and therefore more popular with visitors. Which makes this park ideal for those who prefer less crowded hiking trails. Like all National Park trails, your dog must be on a leash that's no more than 6' long at all times and you're required to clean up after your pet.
Diablo Lake Trail is moderately challenging as it meanders through the old-growth forest along the flanks of Sourdough Mountain on its way to the sparkling turquoise water of Diablo Lake. Along the trail, you'll enjoy the stunning scenery that includes Colonial, Davis, Pyramid, and Snowfield Peaks as well as 700-foot waterfalls.
The switchback trail to the suspension bridge is steep and treacherous, so you'll probably want to skip taking your dog down this part of the trail.
The 7.6-mile out-and-back trail takes an average of 3 1/2 hours to complete. 

San Juan Island National Historical Park
Lush forests, saltwater beaches, native prairies, abundant wildlife... Pristine San Juan Island National Historical Park features all of this and more. This historic island is very dog friendly, with all of its many hiking trails and beaches welcoming leashed dogs.
As tempted as he may be, make sure your dog doesn't chase or annoy any of the island's wildlife. National Park regulations require you to stay a minimum of 75 ft (two school bus lengths) away from any wildlife. If a wild animal approaches, it's your legal responsibility to move away.
The island includes six miles of dog-friendly beaches, as well as hiking trails that will take you and your pup from deep forests to mountain vistas.
Snow Lake Trail
The trail to this lake high in the Alpine Lakes Wilderness near Snoqualmie Pass, Washington is very popular. You'll want to make sure your dog is comfortable with crowds before hitting this often crowded trail. If neither of you enjoys crowds, you may want to visit the Snow Lake Trail in mid-week when the trail is slightly less busy.
After climbing  200 feet up log steps, the trail wanders through the forest and over ridges on its way to the best view of this beautiful lake. Don't settle for a shorter hike and a good view. Continue to the end of the trail for a  spectacular view that is definitely worth the wait — and the hike!
Stay alert for the mountain goats that make this area their home.
This moderate trail is 7.2 miles out and back.
Before You Head Out on Your Next Great Adventure
Make sure your pup is properly equipped to hit the trail. A sturdy collar or harness with ID is a must. So is a great leash like the SideKick Hands-Free Dog Leash that gives you control over your pup while leaving your hands free for other things. A dog pack gives your pet an important job to do — something many dogs (especially working breeds) were born to do! Just make sure that it fits comfortably and you stay within the comfort limits for your dog's weight.
Other Dog Hiking Trails Essentials:
Adequate water for both of you
A collapsible bowl or cup that your pet can drink from easily
Plenty of treats (to help him keep his strength up, of course!)
Doggie doo bags
Dog boots or paw wax (especially important if the terrain is rough)
A dog first-aid kit
Tick protection (check for ticks on both of you after your hike)
Visit our Dog Blog to learn more about hiking with your dog. Still have questions? Send us a woof! We're always happy to assist 4-legged hikers and their best friends have the best day possible on whatever hiking trails they hit.