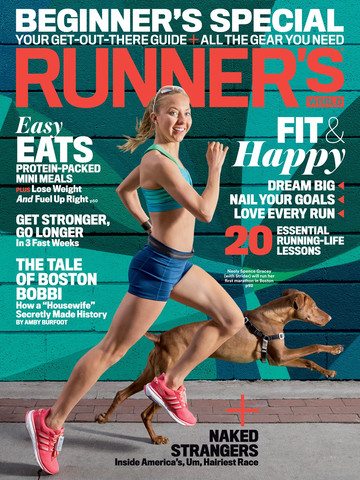 People are asking which dog leash Neely Spence Gracey is wearing on the cover of the May 2016 issue of Runner's World magazine. We're here to tell you that it is none other than the Iron Doggy™ SideKick hands-free dog leash. Neely wrote a guest blog post for us and she said that the SideKick made a "huge difference" for her because it doesn't impede her form. That's important for anyone who runs with their dog, not just the winner of the 2016 New Orleans Rock'n'Roll Half Marathon. She recently ran the Houston Marathon to qualify for her 3rd Olympic Trials. She is excited about what the next year will bring and is ultimately building towards the 2024 Olympic year. 
Fans of Iron Doggy™ know that we take the design and materials of our leashes very seriously. The SideKick was created in response to feedback from a handful of runners who found our original hands-free dog leash, the Runner's Choice, more leash than they needed. Arriving at the SideKick's design was an interesting journey that we documented for our customers, suffice it to say there is nothing arbitrary about our hands-free dog leash designs.
Since starting the company back in 2010 Iron Doggy™ has sold thousands of leashes to runners all over the globe. Some of our customers are elite athletes, and some are weekend warriors. Some of our customers are running with strollers, and some aren't running at all.
Whether you're about to make your marathon debut in Boston or you're just signing up for your first 5K, we've put a lot of thought into our leashes so you don't have to. With Iron Doggy™ hands-free dog leashes, you and your dog can hit the trail running.

To learn more about Neely and her vizsla "Strider" (here is an interview with Neely in Women's Running Magazine).