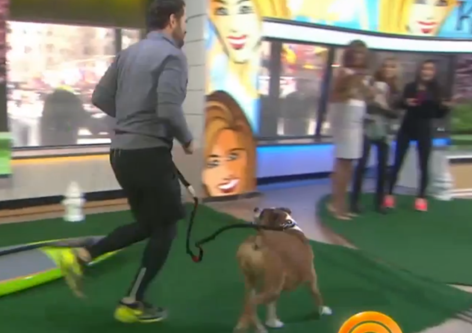 The Today Show ran a Four-Legged Workout segment where they demonstrated a handful of activities that people can do with their dogs. A beautiful boxer named Duffy demoed running with the Iron Doggy™ Runner's Choice Hands-Free Dog Leash.
According to Jen Ator, Women's Health Fitness Director, and Certified Trainer, there's been a rise in pet + owner races happening across the country. Ator advises that before signing up for one of these races you should train for the race with your dog.
As demonstrated, the Runner's Choice hands-free dog leash is an excellent choice for runners with strong dogs that like to run out in front of you. In a review in Fitness Magazine, the Runner's Choice was recommended for people who run with big dogs. That's certainly true but it's really perfect for any dog that is easily distracted and strong too. Iron Doggy's other hands-free dog leash is the SideKick, this leash is streamlined for runners who like to run side-by-side with their dog. Elite runner Nelly Spence Gracey is currently featured on the cover of Runner's World Magazine wearing the Iron Doggy™ SideKick Hands-Free Dog Leash. 
Watch the Today Show segment here (you can fast forward to the 2:30 mark (2 minutes and 30 seconds) to get to the Iron Doggy™ section).
Check out Iron Doggy's Race Page to find a dog-friendly run event near you.
To get you going, here are links to a couple of training plans that we've used to prepare for races with our dog: